curated by Muna Khogali

Remember the beginning of the Internet?
All those hopes for a new democratic world in which people, regardless of distance, nationality, or social status, could cooperate, not compete, make decisions together and hold power into account?

The big hopes started with small steps, one of which was the famous Internet Cats and Kittens – such a human thing to do: share with strangers portraits of their beloved pets, to make private matters common. Isn't it the beginning of creativity and solidarity?
It could be said that kittens were the beginning of the people's Internet, with publications of scholarly works and arguments about art and politics. This was the foundation of grassroots journalism, which then developed into Wikipedia, open source culture and the belief in a better future for all of us, one that we will create together.
"That's how my "career" as a blogger started, too.
As a mom in the American suburbs in 2003, I started blogging about my life and my newborn son and gradually built up an audience in the blogosphere that was just beginning to emerge."
NIKA DUBROVSKY
This was a time when commercial companies had not yet begun to capitalize on data processing, when many people thought that Google was a good and ethical company.
Nearly 20 years have passed since then. Now the Internet has changed beyond recognition, becoming a giant machine built to extract profit and power.

A principal sign of this change is the imprisonment of Australian citizen Julian Assange, the founder of Wikileaks, who has not only been persecuted on political charges but is also facing extradition to the United States for a life in prison, where he has no citizenship.
This situation is not logical, not fair. It is directed not so much at Assange himself but, above all, at all of us. It demonstrates that a person can be jailed for life for being the publisher.
Here it makes sense to go back to the first Internet cats, with their intimacy and lack of seriousness. After all, Internet cat lovers are also publishers.
One might think, of course, that no one goes to jail for publishing pictures of cats because there is no such law, but until now, the Espionage act did not exist either and was specifically resuscitated for the Assange case.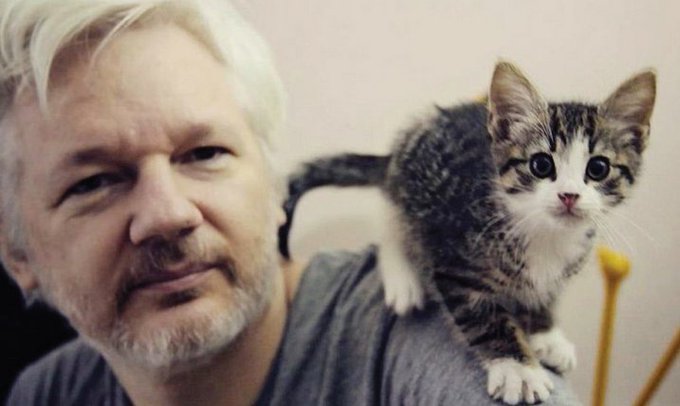 A group of friends agreed that the proper gesture to protest the actions of American and British authorities and the people who agreed with the demand of the motherland of Julian Assange – to return him home immediately – would be to post their video with their own dear and very private cats with the hashtags: #lovecats #FreeAssange #Catsky
Every cat is a story of private relationships that we share with everyone, just as we share our opinions about what is important to us: the economy, politics, gender relations, and so on and so forth.
Can our cats be banned?

Can we be banned from sharing what's important to us: pain, empathy, our idea of Justice?
We have several social media accounts – on TikTok, on Facebook. But if you want to create your own and repost, that would be great!
Let's fill the internet with a liberation movement of cats fighting for press freedom!
CAT LOVERS
#lovecats #FreeAssange #Catsky