As a society, we cannot allow able-bodied heirs to experience being put on the sidelines of the labour market already at a young age. The Nav(*)-certified initiative for work training and affiliation, Work for inheritance, aims to counteract this tendency and offers belonging, a sense of mastery, a meaningful everyday life and opportunities to become free from inheritance addiction.
Labour for heirs is job #1! *)Norwegian Labour and Welfare Administration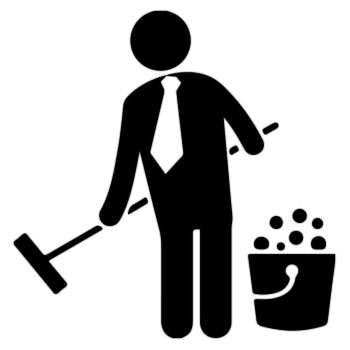 Introduction
An often under-communicated problem that the growing inequality of neoliberalism provokes is the rise of billionaire heirs. When the politics of labour was carved out under the Brundtland governments in the 90s, the incidence of this minority group was still so small and unknown that it went under the radar of politicians, social scientists and economists. Consequently, they were not included in the grand plan of labour politics with the witty and generous motto «labour for everyone is job no. 1». The billionaire heirs have since then been a neglected group, tucked away in hunting castles, luxury cottages, penthouse apartments, yes, and some have even been sent away to tax havens to look after the family fortune.
Many are envious of the billionaire heirs and think they live a life of joy and happiness, but the fact is that it is not easy at all to grow up with a silver spoon in your mouth and huge pillows sewn under your arms. This stigmatized group struggles heavily with being outsiders, lacking faith in their own abilities and feeling being unwanted. With our affiliation program Labour for inheritance, we will both overcome the prejudices in the rest of the population, while at the same time giving the billionaire heirs a sense of mastery and a meaningful everyday life. Another socially beneficial effect is that the scheme will help solve challenges such as the imminent wave of elderly people will bring.
A childhood marked by disillusioning inactivity and propaganda against inheritance tax will probably make the initiative participant struggle a bit at the start. The program of the initiative takes this into account by proceeding gently, but purposefully, so that healthy core values are conveyed in a resoundingly clear way: it should pay to work – inheritance should be a trampoline into the labour market and not a mattress!
Instead of taking away the inheritance from the heirs – which would probably have caused the silver spoons to pop out of their mouths in sheer despair – it is transferred to a blocked bank account in their name. And as they participate in the program, the inherited money is paid a little at a time in small and salary-like amounts.
The tasks offered at the initiative program vary depending on time, place and market demand. With the rapid development in artificial intelligence (AI), checking AI-generated texts, freshing up AI-generated images, as well as caring for robots, will be natural work tasks.
The experience of unity with other participants from less privileged social classes will give the heirs the opportunity to practice empathic skills, solidarity and give them a more meaningful everyday life. They also get the right to wear the awesome uniform tie with the affiliation initiative's logo on it.
Contents
Uniform tie with reflective tape, made from recycled yellow vests.
Instructions for use
– Get up in the morning.
– Blow your nose clean and tie your tie.
– Go to work.
It's not worse than that.