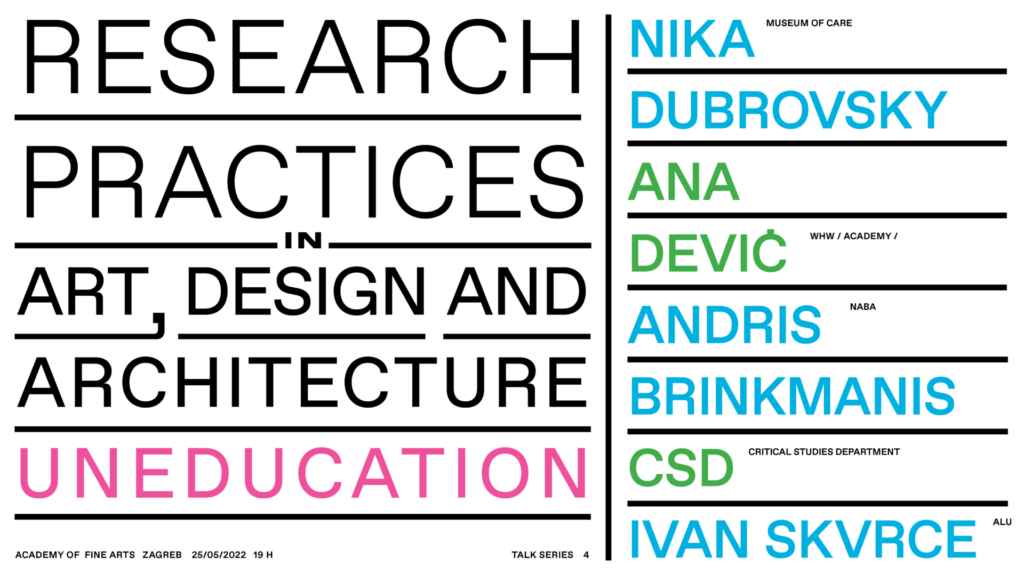 A Project in collaboration with Critical Studies Department
Please join us on May 25th, 2022 at 7 PM CET  for an open dialogue about The UNEDUCATION project, based on sharing and framing of pedagogical practices, together with Andris Brinkmanis, Nikola Bojić, Ana Dević, Nika Dubrovsky, Ivan Skvrce and Marko Tadic. We will be discussing questions regarding education and institutional and non-institutional learning, our respective backgrounds and the practices and perspectives we embody. The meeting will be organized as a dialogue and conversation rather than just a presentation, with brief interventions and space for questions and debate in the end. 
The UNEDUCATION project is a collective initiative that moves between research, meetings and self-management, carried out in collaboration between CSD, the students of NABA (New Academy of Fine Arts in Milan) and the students of ALU (Academy of Fine Arts of Zagreb).
It is a follow up of "Education and Anti-Institutions" series, that during the 2022/23 season will consist of 6 keynote lectures and 6 open assemblies.
Opening lecture and conversation with acclaimed anthropologist Keith Hart "Lifelong self-learning and modern education" held on April 28th inaugurated the 2022/23 program and is available (Keith Hart – About Education and Learning / 28-04-2022).